This article is for property management companies that use the FreeRentalSite marketing platform and use Appfolio's online application. This will make the Apply online button on PMW websites go directly to the online application in your App
Post your active listing to FreeRentalSite's marketing platform
To get started, first login to your FreeRentalSite account by going to http://www.freerentalsite.com/ and click login at the top right. Make sure that you use the same login information that was created for you for your Pro account. The Pro account gives you the full marketing platform and is what is attached to your Property Manager Website.
Once logged in, post your new listing by clicking the Post Ad button at the top right. You can also modify an existing listing by going to your Manage Ads tab and clicking on the listing title or image that you are adding the application link to.

Add the application link to the Ad Details Section
Once you post a new listing or open an existing listing, you will be on the Ad Detail page. This is where you can add any of the information for the listing you want to display including the application link to an online application. Please note that this can be for ANY application that you have a URL for.
If you are using our marketing platform on your website or have a website through PropertyManagerWebsites.com, by including a link in the Application URL field will automatically put an "Apply Online" button on your listings.
To insert the application link into your listings, click the Edit Key Ad Details button on the left. Once the window pops open, the Application URL box is the last one in the Key Details section as seen below.
Enter the link to your online application and click SAVE at the bottom of the pop up window. This is all you need to do to include the Apply Online button on your listing.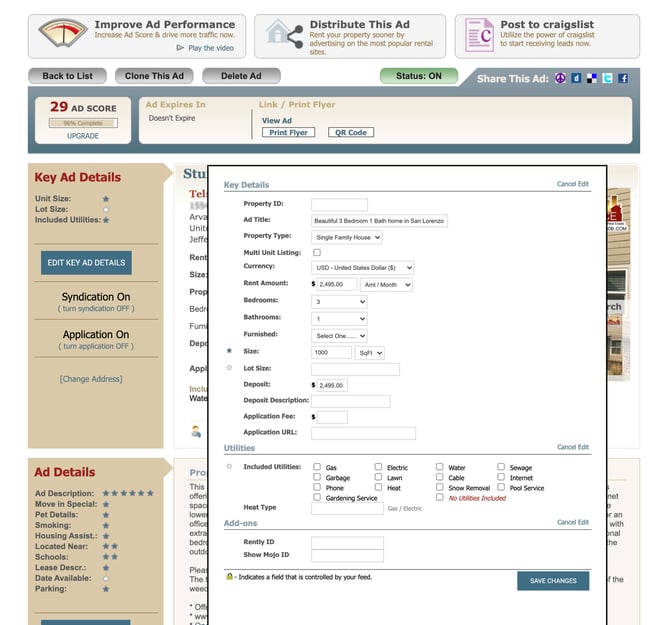 How to find the link to an Appfolio online application
Once you know where to enter the online application link, the next step is to find the correct link to your Appfolio application. Applications are specific to the property, so it is necessary to find the url for each property that you post.
First, go to your Appfolio listings page. You can find that by going to you companies url and add "/listings" like the example below:
http://yourcompany.appfolio.com/listings
NOTE: If active listings are not showing up in this list, it is important to first set the listing to "Post to My Website" in your Appfolio account under the Listings section.
This will bring up the page of your listings on Appfolio. Find the property that you want to find the application link to, and click Apply Now button to open the application.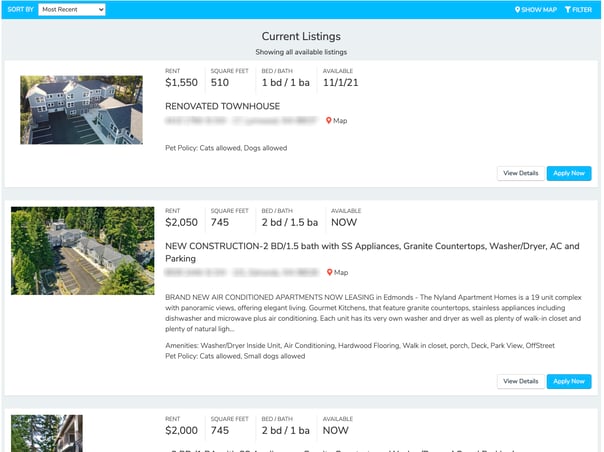 Once the Application opens, copy the URL in the browser and paste it into the Application URL field on your FreeRentalSite account and click Save at the bottom as seen in section 2 above.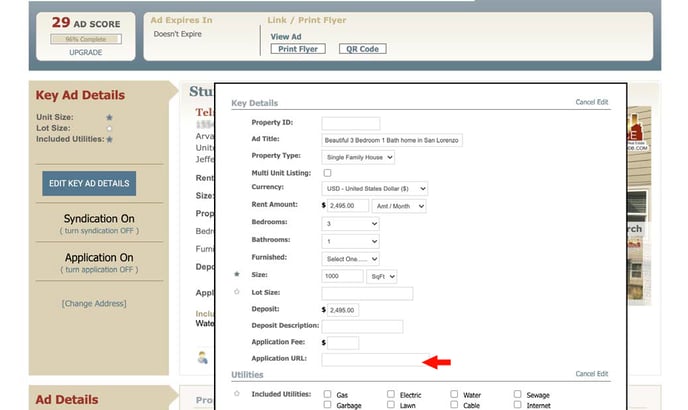 Please note, if the property is not included in your Appfolio list, you can add it by logging into your Appfolio account and select "Post to Website" in the property list.